Residential
in Florida
Starting at Just $299
All County Waste, the #1 provider of roll-off dumpsters across the State, offers white-glove residential dumpster rental services near you. We have dumpsters to fit any size driveway that our experienced drivers will deliver worry free. Our service includes …
Flat-Rate Prices
No Hidden Fees
Same-Day Delivery*
Quick & Easy, No Paperwork
Instant Availability
No Delivery or Pickup Fees
Designated Account Manager
Se Habla Espanol
Call Now (888) 350-3867
Roll-Off Dumpster Sizes for Residential Projects
Planning a home remodel project? Ready to get rid of the junk in your garage? Learn about the most popular dumpster sizes for residential projects.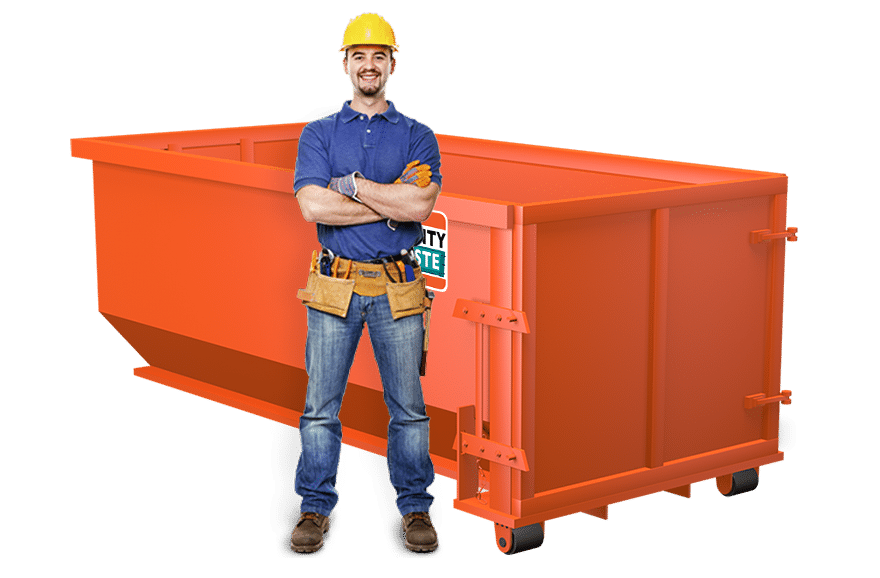 Projects That Call for Renting a Dumpster
Not sure if you'll need to rent a dumpster for your home's project? Here are some of the most common residential projects that will likely need a roll-off dumpster.
Whether you're cleaning out your attic, garage, back yard or entire home, having a dumpster in your driveway can streamline the process. We recommend a 10-yard or 15-yard residential dumpster for these types of projects.
Home Improvement Projects
When you have a roll-off dumpster on-site, it's easy to get rid of debris from your home improvement projects. For small renovations, as a bathroom remodel, we recommend a 10-yard dumpster. For medium-sized projects like roofing replacement, a 20-yard dumpster is best.
Getting rid of junk and clutter when you're moving can be challenging.  Having a roll-off dumpster in your driveway can streamline the process. Fit furniture, clutter, and waste in the dumpster, and let us take care of the rest.
Storm or Disaster Cleanup
We're here to make the cleanup less stressful when bad weather strikes. Our residential dumpsters are perfect for removing fallen branches, debris, and yard waste after a storm. We'll come to pick it up when you're ready. IT's that easy!
We'll help you get your dumpster on-site ASAP with our quick residential site deliveries.
Keep your residential dumpster beyond your rental period for a flat weekly rate, no hidden fees, ever!
Not sure what size you need? Our team is happy to recommend a dumpster for your project.
Our team will help you find the ideal location for your dumpster if your home's driveway isn't big enough for delivery.
Ready for pickup? Our team is ready whenever you are with speedy removals and free pickups.
Our trained drivers will help you find the best spot for your dumpster on or around your property.
How Our Residential Dumpster Rental Works
All County Waste offers premier dumpster rental services in Florida. We count on authorized, reliable, and modern fleets to meet your every expectation. We pride ourselves on our straightforward white-glove service process. Everyone on our team is dedicated to assisting you in this process and helping you find the perfect roll-off dumpster for your project.
Call to Request a Dumpster
Our team will give you a FREE estimate over the phone based on your project. Our rentals include flat-rate prices, so there will be no total cost surprises.
Work with your designated account manager to schedule your dumpster delivery as soon as possible so you can get to work. We offer instant availability in all of our service areas.
Once you're ready, call us back and schedule your pickup. We offer quick pickups at no additional fees or charges.
Areas We Serve
All County Waste is Florida's leading roll-off dumpster rental service provider. We are ready when you are! At the moment, we proudly serve the following areas:
Frequently Asked Questions
How much does it cost to rent a dumpster?
Our base flat rates begin at $379 for a 10 yard dumpster. All dumpster rental prices vary depending on size, contents, rental period and location. Call and speak with an account manager to determine your exact rate.
What dumpster sizes do you offer?
We offer various dumpster sizes to accommodate small or large projects. Our inventory includes 10, 15, 20, 30, and 40 cubic yard dumpsters. Whether you are cleaning out the garage or demolishing a building, we'll help you find the perfect dumpster for the task. Call today!
Our Customers Trust Us
Residential customers trust All County Waste for quick, reliable, and hassle-free dumpster services. Here's what they have to say about their experiences with us.
Drew Peacock
Alan and crew delivered a 20 yard dumpster for us in a very difficult place. They were responsive and available on the phone. Both the driver and the office were in touch every step of the way. great company to work with. very fair rates overall, thank you Alan!
Figueroa-Contreras Law Group PLLC
Very happy with our experience with this dumpster company. They are very reliable and have decent prices.
Danelis Delgado
Recently used All County Dumpsters for a home remodel project and they were very fairly priced, professional and provided clear and excellent customer service. Will definitely use them on the next project.
Derek Rogers
Alan is great to work with wish all dumpster companies were ran like this.Great job Alan made my job easier.