Commercial
in Florida
Starting at Just $299
All County Waste offers no-contract, long-term dumpster rentals at a fair price for all your business dumpster rental needs. We know you are busy, which is why we have same-day delivery* and weekend services with no hidden fees or extra costs. Here are some of the many reasons why businesses trust us for their dumpster rental needs:
Fast & Easy, No Paperwork
No Hidden Fees
Same-Day Delivery*
Weekend Deliveries
Flat-Rate Prices
Free Delivery & Pickups
Outstanding Customer Support
Designated Account Managers
CALL NOW TO ORDER
Roll-Off Dumpster Sizes for Commercial Projects
Do you need a dumpster for your commercial property? Ready to get rid of the unwanted items in the warehouse, office or store front? Learn about the most popular dumpster sizes for commercial projects. Short or long term rentals available.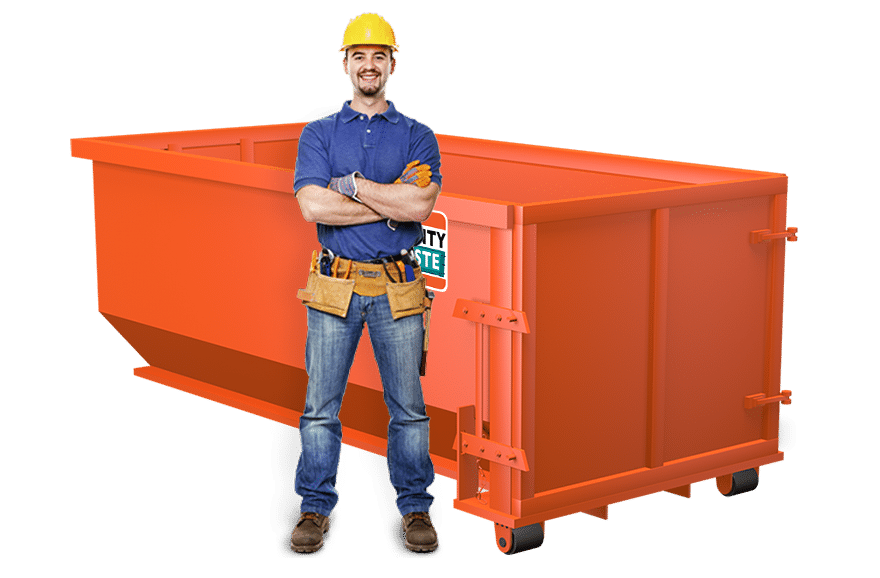 Who Might Need to Rent a Commercial Dumpster?
Our commercial roll-off dumpsters can accommodate cleanups of any scale or type. Businesses who contact us to keep all the waste away and maintain a clean workspace include:
Your retail property needs to have a designated dumpster to control all the waste your business produces. Instead of relying on the shopping plaza to handle your waste, take control of it by renting a roll-off dumpster for your store. 
Regardless of the size of your building or apartment complex, our flexible and same-day delivery* dumpster services make it easy to keep your property clean without straining your budget. We also offer weekend deliveries and pickups, so your complex is always in perfect shape.
Dispose of any remaining waste from your manufacturing practices right on site when you have a roll-off dumpster. You know how critical waste management is for your manufacturing facility, so having an easy-to-manage dumpster rental service is crucial for your business.
All restaurants and bars need to have an on-site roll-off dumpster to manage their large volumes of waste. But, they need something more—a trustworthy dumpster rental company with free pickups and same-day delivery* to keep your business going.
Trust our same-day delivery* and expert drivers to get your dumpster on-site when you need it.
With no hidden fees and no contracts, you can extend your dumpster rental without worrying.
Let our trained drivers decide the perfect placement for your commercial dumpster to ensure easy access.
Our team of experts is ready to assist you with any questions about rentals and more. 
Trust our team to let you know everything about the status of your dumpster and when it will arrive.
Ready for pickup? With free pickups, our team is ready to take care of your full dumpster and bring you a new one in no time. 
How Our Commercial Dumpster Rental Works
All County Waste offers premier rental services in South Florida. Businesses need support to succeed. We rely on safety, experience, technology, and a modern fleet of trucks to meet your every demand. Everyone in our team is here to help you with your waste management needs. Join the 4000+ other businesses who experienced our simple rental process!
Call to Request a Dumpster
Our team will give you a FREE quote over the phone based on your business site and needs. Your quote includes flat-rate rates and no hidden fees, so you'll know the total cost of your rental.
Right there, your designated account manager will work with you to schedule the delivery as soon as possible. We offer instant availability in most of our service areas.
Once your dumpster is full and you're ready, call us back to schedule your pickup time. We offer quick pickups at no additional fees or charges.
Areas We Serve
All County Waste is South Florida's leading roll-off dumpster rental service provider. We are ready when you are! At the moment, we proudly serve the following areas:
Frequently Asked Questions
How long are typical rental periods?
Most dumpster rental periods range from 7 to 14 days. Depending on your needs, you can extend your rental period for a daily flat fee rate. 
Commercial Dumpster Service